La Settimana del 14 Agosto 2020
Ferragosto!
Inauguro La Settimana alla vigilia di Ferragosto*, quando sono tutti in ferie e non succede niente. Davvero? Vediamo…

The debut of La Settimana is on the eve of Ferragosto*, when everyone is on vacation and nothing happens. Really? Let's see ...
* Che cos'è Ferragosto? Il 15 agosto è uno dei

giorni festivi

(non lavorativi) stabiliti per legge in Italia, dunque non si lavora e, spesso, le aziende chiudono per tutta la settimana del 15 o, addirittura, per tutto il mese di agosto. Il nome deriva da

Feriae Augusti

, festività stabilita nel 18 a.C. dall'imperatore Augusto che riuniva tutte le feste di agosto - tantissime, perché era il periodo dei raccolti e della fine dei lavori in campagna. Posteriormente, la chiesa cattolica si appropria di questa celebrazione, scegliendo il 15 agosto per la Festa dell'Assunzione di Maria o Festa dell'Assunta.

* What is Ferragosto? August 15th is one of the

holidays

established by law in Italy, therefore we don't work and, often, companies close for the whole week of 15th or even for the entire month of August. The name derives from Feriae Augusti, a festivity established in 18 BC. by the emperor Augustus that brought together all the August festivities - there were many, because it was the harvest period and the end of the agricoltural works. Subsequently, the Catholic Church appropriated this celebration, choosing August 15 for the Feast of the Assumption of Mary or "

Festa dell'Assunta

".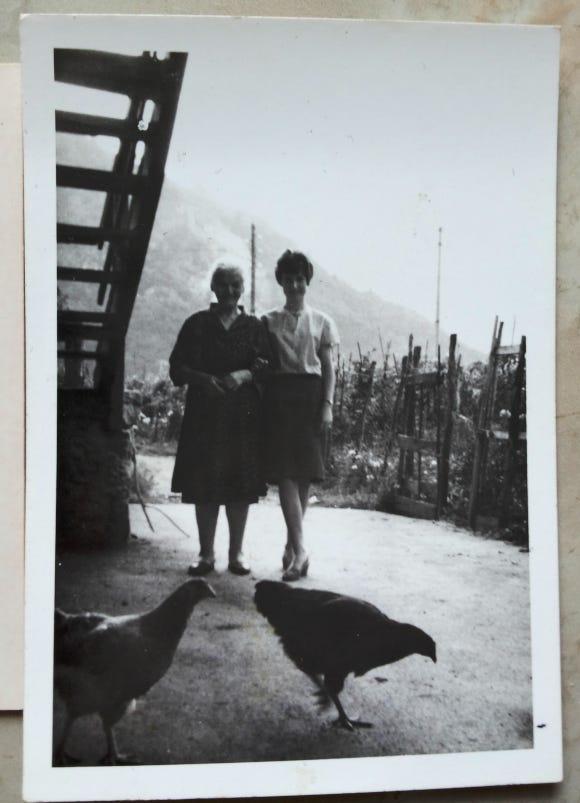 Un tempo le donne nate il 15 agosto venivano chiamate Assunta, come la mia nonna materna, nella foto con mia madre nel 1966. /
Women born on August 15 were often named Assunta, like my maternal grandmother, in the photo with my mother, in 1966.
---
Notizie
Intercultura, riparte il sogno degli studi all'estero. / Intercultura, the dream of studying abroad starts again.
Coronavirus, dove sono i nuovi focolai. / Coronavirus, where are the new hotbeds.
Le storie dei lavoratori autonomi che stanno ancora aspettando il bonus dell'Inps.
The stories of self-employed workers who are still waiting for the INPS bonus.
L'economia italiana post covid. / The post covid Italian economy.
Il 9 agosto, pochi giorni dopo aver compiuto 100 anni, è scomparsa l'attrice e autrice teatrale Franca Valeri. Se non l'avete mai vista in un film, rimediate subito!
On 9 August, a few days after she turned 100, the actress and theatrical author Franca Valeri passed away. If you've never seen her in a movie, fix it now!
---
Cultura
Cos'hanno i filosofi da dirci sulla pandemia? Un dibattito molto interessante si è generato negli ultimi mesi, lo trovate completo qui in inglese e, in italiano, sparso tra alcune riviste: qui i link.
What do philosophers can tell us about the pandemic? A very interesting debate has been generated in the last months, you can find it complete here in English and, in Italian, among some magazines, here the links.
Architettura e Design: I 20 migliori articoli del 2020 della rivista Domus. / The 20 best articles of 2020 from Domus magazine (also in english).
Nuovo DNA antico Come l'analisi genetica di fossili e popolazioni sta cambiando il racconto dell'evoluzione umana.
New ancient DNA How genetic analysis of fossils and populations is changing the history of human evolution.
---
Video
Che cosa mangiano gli italiani a Ferragosto? Prova a indovinare e poi guarda qui.
What do Italians eat on Ferragosto? Take a guess and then look here.
Le vacanze estive sono state tema di molti film italiani, eccone due molto belli:
Summer holidays have been the theme of many Italian films, here are two very good ones:
---
Musica
Due canzoni estive da cantare a squarciagola! / Two summer songs to be sung out loud!
---
Un Compito Per i Principianti /
A task for beginners
Vocal recognition exercise: How to introduce yourself?
---
Ci vediamo il prossimo venerdì! Nel frattempo, commenta quest'edizione e condividila! Grazie :)
See you next friday! In the meantime, leave a comment on this edition and share it!
Thank you :)
Desi